And so, we celebrate another successful INBOUND conference in Boston.
INBOUND16 ran like a well-oiled machine, at least as far as I could tell. There were some upsets, some very pleasant surprises, and of course, tons of talent and knowledge to go around.
Here's my list of standout speakers and interesting moments that I thought were worth mentioning.
ALEC BALDWIN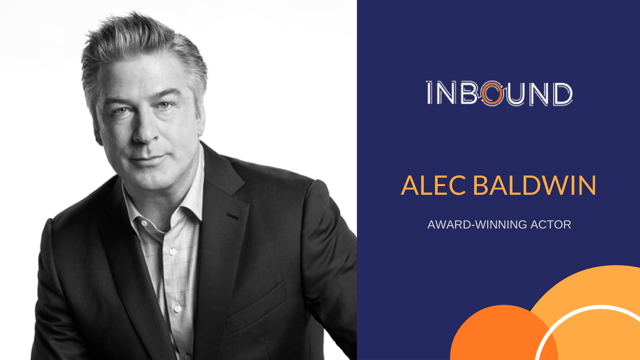 Alec was one of the conference's headliners. Aside from his extensive work in film and television and his topical podcast, "Here's the Thing," Alec is most recently known for his Donald Trump impression on Saturday Night Live.
If you haven't listened to Alec's podcast, you should check it out. After listening to it myself, it became clear to me why he was relevant to an audience at INBOUND. For an older man who's still very active and prominent in his field, he puts a lot of emphasis on compassion and understanding what you don't know.
His podcast features performers, authors, and political leaders sitting down for a chat about whatever Alec Baldwin wants to chat about. But as he interviews his guests, you can not only hear the admiration he has for them, but also his eagerness to digest what they have to say.
In his keynote at the conference, Alec spoke about how today's world begs for open-mindedness and humor. Ideas are worth more than they were before because now, they can come to fruition at the drop of a hat. The things we say and do have a wider audience than they once did, so we must speak and act deliberately and consciously.
As digital marketers, it's our job to use the gift of tech responsibly.
TREVOR NOAH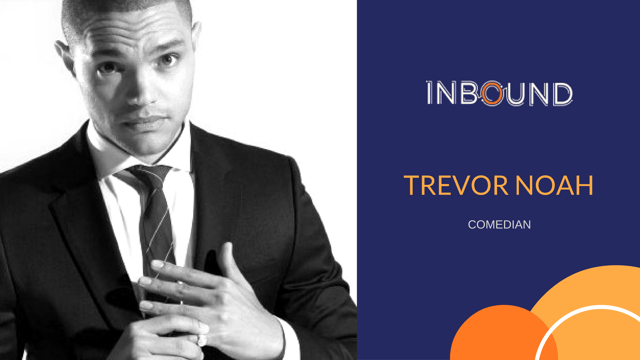 What's better than Trevor Noah? Surprise Trevor Noah.
Unfortunately, Sarah Silverman was unable to make it to Boston, but the last-minute replacement INBOUND Rocks performer was more than adequate.
I've been a fan of Noah's ever since he took over for Jon Stewart at The Daily Show. But his stand-up? Outstanding.
The overall vibe at the conference was kind of tense in the days following the presidential election, so who better than a political comedian to come and help us all through it? Without getting too political, Trevor addressed the results and then moved on to poking fun at the British Empire. He ended on a high note by praising all women for their amazing femininity.
Brilliant.
GARY VAYNERCHUK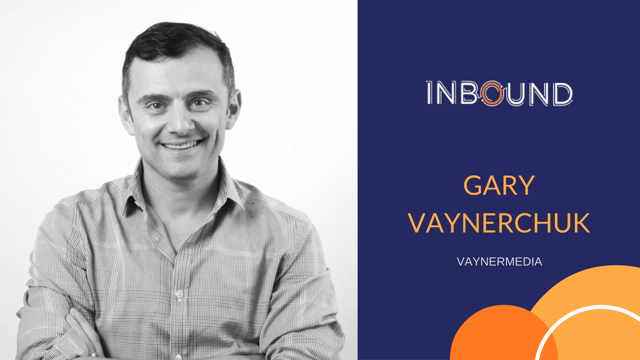 Gary Vaynerchuk is the best hype man around. If you haven't already, go follow him on Snapchat and Instagram. You need a little of this guy in your life, whether you know it or not.
Gary's story is an interesting one. After immigrating to the US from the Soviet Union, Gary was educated in Massachusetts. After graduating from college, he took over his father's liquor store and grew it into a multi-million dollar wine retailer. Since then, he started VaynerMedia, a digital agency that embraces the world of social media and its fast-paced, ever-changing, all-up-in-the-action goodness.
With his huge following on Snapchat and Instagram Stories, Gary is constantly dropping truth bombs on people. His tone, while a little intense at times, is always full of positive and uplifting energy. It was no different when he was live on stage at INBOUND.
One of the notable takeaways from his talk was that, regardless of what's going on in the world, you're ultimately still in control of your own destiny. It didn't matter who won the election, what was going on at home, or what new policies are enacted at your job. You always have options. You can always get creative to find a solution to your problem. You can always stay one step ahead of the action.
And a little enthusiasm can carry you a long way.
ANNA KENDRICK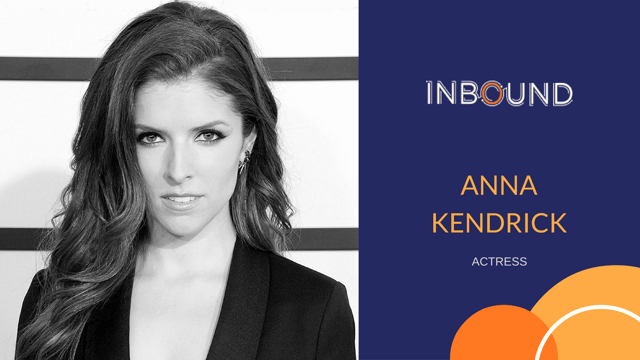 Anna Kendrick is the best friend I always wish I had (no offense to my actual best friend). Aside from her extensive acting and musical career, Anna is known as being a comedian of sorts...her Twitter feed is hilarious.
During her interview, she spoke about how she got this reputation for just being good at social media. It all started very organically. She initially tried doing the Hollywood thing, tweeting about what she thought she should be tweeting about and being saccharine-sweet. But, it wasn't real and it didn't feel good.
So, she decided to be herself - genuinely and authentically Anna Kendrick. To her surprise, people started responding to it. People liked the real her and they could feel the humanity behind the Twitter account - it wasn't just some publicist, persona, or robot.
One thing that was interesting to me is when she talked about how her best "marketing" campaigns were grown completely organically, from conception to fruition to success. In one example, she mentioned that she had been sharing photos that her fans were sending her of them recreating one of her movie posters. Once she started doing that, people started sending her more pictures, which only helped to raise awareness for the film. When the movie's PR people heard about this, they tried to make it a thing - "Send us your best Becca pose!" - on the movie's official Instagram page. And just like that, the magic was gone. It felt manufactured, forced, and fake; the difference between paid and organic search, if you will. It's a slippery slope.
The big takeaway here is fairly obvious - people can tell when you're not being you, whether that's you personally or your company. With so much noise out on the Internet, you can (and must) be your biggest competitive advantage.
TA-NEHISI COATES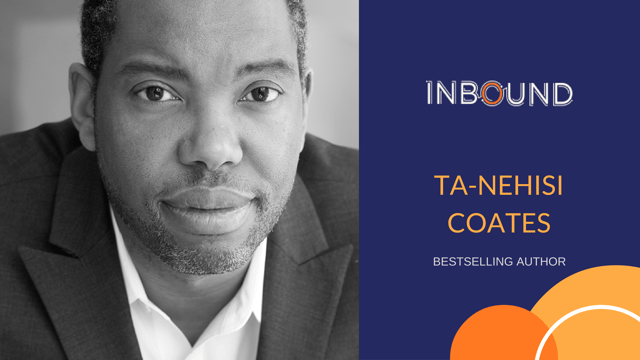 Ta-Nehisi Coates gave a controversial keynote the morning after we found out the election results. Whatever he was planning on talking about had been completely scrapped.
Ta-Nehisi is a writer who focuses on social and political issues, so you can guess the direction his new keynote went in. He was originally going to talk about the importance of education, specifically self-education. With so much access to information, there's no reason that we can't all be constantly learning and bettering ourselves.
Instead, he talked about the normalization of things in our society that are not normal, and he then proceeded to outline how he felt our country got to this point.
As I watched people leave the hall and scrolled through Twitter posts for #INBOUND16, I felt like there were some disconnects. As you can imagine, not everyone wanted to hear about politics at a marketing conference. Many of the tweets asked why this was even a topic of conversation - "Let's get back to marketing!"
But the keynote speakers rarely talk about marketing, specifically. Most of them aren't marketers. Instead, many of them choose to discuss the issues that they're working to resolve or bring awareness to - social, business, or otherwise. As marketers, the outside world, its viewpoints, and its grievances are all relevant to what we do. The Internet is our playground, and that's where these ideas are born and thrive.
That being said, I didn't mind the change in topic, but you can watch Ta-Nehisi Coates' INBOUND16 keynote and make up your own mind about it.
LESLIE ODOM, JR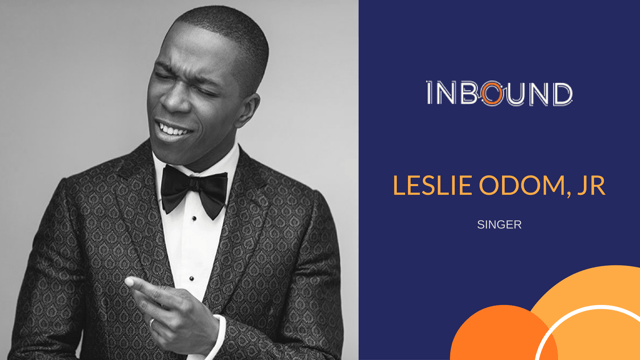 "Pardon me, are you Aaron Burr, sir?"
Fresh off his Emmy-winning performance as Aaron Burr in the biggest ever Broadway musical, "Hamilton," Leslie Odom, Jr. took to the INBOUND stage to open for Gary Vaynerchuk.
Why is he even on this list of highlights? Because he was good. He performed a song from his acclaimed jazz album, along with a couple of songs from Hamilton. It's probably the closest I'll get to seeing the musical for a while, so I'll take what I can get when I can get it.
CHRISTOPHER PENN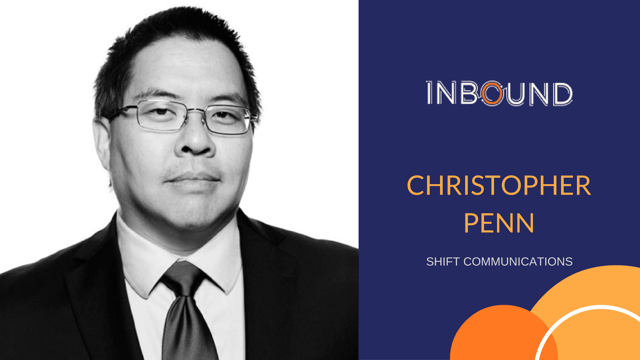 Alright, let's get into the meat of it. Christopher Penn of Shift Communications discussed the benefit of using data to direct your marketing strategies and campaigns. Why? Because your intuition can mislead you.
Oftentimes you'll find that you'll feel one way, but you can't find any data to support your hunch. There's a reason for that. While it's good to be in tune with what's going on around you, you have to allow for the fact that you're excluding some critical data points. Your own perception can be, and often is, skewed and limited, but you can remedy this by tracking and analyzing certain metrics.
Also, the world of dark social is infringing on us now more than ever. This encompasses messaging apps like GroupMe, WhatsApp, and Facebook Messenger - apps that offer little-to-no data or insights. This is a problem for marketers as more and more untraceable content is shared within these group messages.
So what's the takeaway here? The customer journey is not linear anymore. As much as marketers try to direct the customer's path down our funnels, we need to realize that there are outliers that are affecting our outcomes. By understanding the data, where it comes from, what it means, and what data we don't have access to, we can execute our marketing strategies more effectively.
We're facing a time of increased digital competition, an overflow of online content, and an abundance of costly SaaS programs, yet business owners are spending more on marketing activities and less on analytical tools. We need to learn to work more efficiently to do more with less.
Start with the data.
Larry Kim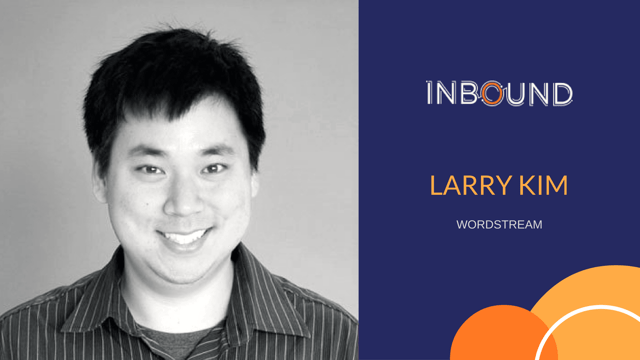 Larry Kim, the founder of Wordstream, is a guy you can count on for some actionable, data-driven, and results-driving tips. His writing can be found all over the web and his company's blog is a great resource for some of the finer SEO/PPC points.
Larry's big sell is that you've got to find the unicorns in your content. Unicorns are pieces of content that have already performed well. His idea is that you've got to keep promoting them! You've got something that works, so let it keep working for you.
Unfortunately, as I'm sure many of us have seen firsthand, organic reach on social platforms is next to nothing. It sucks and it's only going to get worse. You've got to pay for reach if you really want it to impact your business. By promoting posts that you already know people are likely to click on and read, you increase your ROI for ad spend.
One thing that stood out to me is that link-building will be less important for SEO going forward. Instead of just building a bunch of links that just sit there and collect dust, search engines will start to pay more attention to actual engagement on your online posts. How much clout does your content, your brand, your name, or your company's name carry? The better you look online, the higher the ranking you'll achieve.
Another way to seriously increase engagement is to target strategically - per sponsored post. As an example, he talked about how he targeted the pro-Trump demographic on a post that featured an image of Donald Trump with the words, "Make your Twitter marketing great again." The result? 10 times higher engagement than before.
Also, I liked all of the Matt Damon references throughout the session. Thanks for that, Larry.
Shay Redmond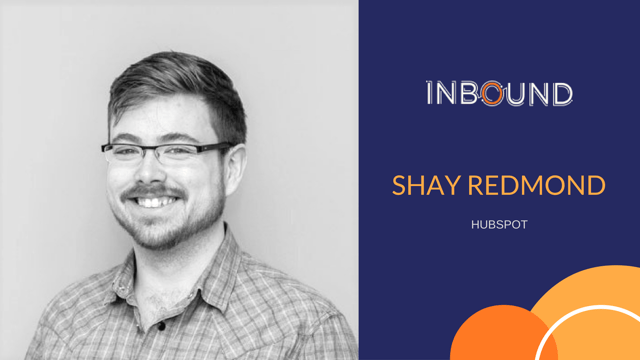 Shay Redmond hails from Dublin and works for HubSpot on the Leadin team.
Leadin is a new addition to the HubSpot stack. It allows you to condense the CTA > landing page > thank you page conversion funnel within a single popup that you can place anywhere on your site. The results? A more interactive and streamlined experience for your website's visitors and higher conversion rates for you.
Personally, I'm a huge fan of the product. If you haven't already, be sure to enable Leadin on your site and experiment with it. See how best your company can use the tool to drive the maximum benefit. For example, would your Leadin popups replace your existing landing and thank you pages or supplement them? Or do slide-in boxes perform better than overhead banners?
Shay walked us through setting up a popup, but what I found more interesting were all of the capabilities that are coming soon - personalization options, more direct targeting, better analytics, etc.
Remember, this is still a very young tool. It's only going to grow and improve.
OLI GARDNER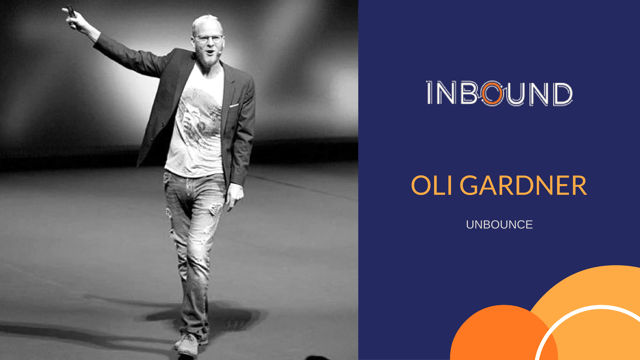 Oli Gardner, the co-founder of Unbounce, is a character. He's passionate about his craft and he knows it better than anyone - and his craft is landing pages.
Specifically, conversions.
Unbounce is a company that allows businesses to build and publish landing pages. For a lot of people, this is a very valuable tool, especially if they're just running a WordPress site.
Still, having a landing page is only the first step. There are tons of things you can do to optimize a landing page so that it actually converts customers and helps to grow your business.
And Oli's got it down to a science.
Conversions are a topic of conversation for every marketer, marketing team, marketing agency, client, whomever - they're the crux of any digital marketing campaign. Without them, your efforts literally fall flat. Oli knows this better than most. In his session, he discussed some equations that could help you optimize your landing pages as much as possible, thereby increasing your conversion rates.
What was interesting to me was how many different data points you have to consider for any given landing page. What that translates to is that you have X number of opportunities to increase your conversions by tweaking things here and there (some tweaks are bigger than others). For me, the big takeaway from all this was:
Technology isn't the problem. We are.
We have the creative and analytical minds to envision success and how best to get there. The tools we use help us, but they aren't us. If there's a problem with something we're doing, we can't just blame it on the fact that people hate popups or that they're not savvy enough to follow the crappy directions we gave them. We have to first look internally to see what can be fixed and how to best do that.
That said, his slides were super dense, so check out Oli's conversion equations here.
---
This is clearly an overview of a tiny percentage of all that was covered at INBOUND16. For more on the speakers and sessions, check out content.inbound.com.
What were some high points for you? Sound off in the comments.