Email marketing is popular. In fact, it's so popular that Forrester Research estimates that companies will spend more than $2.5 billion on marketing emails by the year 2016. Given that many small businesses make use of free software programs, there's a lot more email marketing being done than is recorded. The practice has been around for quite a few years, so many people wonder if email marketing still works.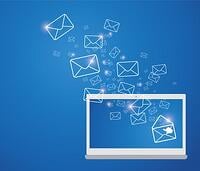 By the Numbers
Statistics show email is still a good tool for marketing. Open, click-through and conversion rates increased by five percent from 2011 to 2013, and 25 percent of recipients like the content in the emails they get. Here are some of the reasons why email marketing is still effective today:
List Segmentation and Targeting
One of the most powerful tools of email marketing is the option you have to target the users you want to reach. By segmenting your contact lists into categories, you overcome these problems:
Through segmentation, you can group together those who have reached the same point and customize your messages to speak directly to each group. This will improve the reputation of your company among users because you'll be sending them material they can use. This will give you better open rates, fewer email unsubscribers and result in more lead conversions.
Email Marketing vs. Email Blasts
A "blast" is a dirty word. It even sounds like spam. It sounds like the old days when you forced information on people whether they wanted it or not. It creates an image of a worthless email sent without thought or consideration. A responsible marketing email campaign, however, makes use of messaging that seeks to provide value to your readers, build relationships, generate leads and referrals and encourage repeat business.
A thoughtful campaign isn't a task assigned to a junior staff member or your marketing intern. It doesn't mean cramming as much information into the email as you possibly can in the hope that users will read some of it.
Make email marketing work for your company by:
Focus on developing email marketing campaigns as opposed to email blasts, and you'll have a higher rate of success.
Types of Effective Marketing Emails
Your marketing email needs to have a point and a focus. Several different types of messages are particularly effective, depending on the purpose of your campaign:
Make your email marketing work in today's world by following best practices and avoiding spamming or blasting your subscribers.
* Image courtesy of freedigitalphotos.net