When Seth Godin speaks, the world listens. Why? Because he is considered a primary thought leader in the realm of permission marketing. Even if you don't know what that is, there's a strong possibility you've heard or read his name and you know he's important. What about people in your own industry, who hold sway over business trends and whose opinion matters far more than your own? Well, the great news about the technology we enjoy currently is that anyone can become a thought leader. Yes, even you!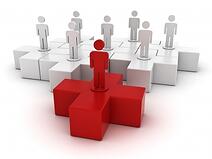 What Thought Leadership Truly Means
The concept of thought leadership first reared its head about 20 years ago, in the professional magazine Strategy and Business. What it means to be a thought leader is to be recognized as an expert in a particular field or niche. It doesn't mean just "knowing stuff," but being a subject matter expert who is able to keep abreast of research and developments to maintain your level of knowledge. It also means sharing your knowledge, however—whether you choose to do that by writing about it, speaking at public events or sharing on a one-to-one basis, it's all part of inbound marketing.
Reasons to Pursue It
Being recognized as a thought leader brings with it valuable benefits, including:
Reputation. As a thought leader, you enjoy a reputation as an authority on your topic of choice.
Free publicity. Becoming well-known in your industry offers access to opportunities such as being sought out for comment in the media.
Networking. By having knowledge and the ability to impart it, you get invited to events where you meet others in your industry.
Trust. Your opinion carries weight and your customers trust that you know what you're talking about, which makes them more likely to retain your services or purchase your products.
Revenue. Increased business exposure leads to increased sales, which benefits your bottom line.
If you're in business to make money (and who isn't?) then establishing thought leadership needs to be a primary goal for you.
Steps to Achieving It
Thought leadership doesn't happen overnight. In some cases, it can come looking for you, but in most circumstances you have to work hard to achieve it. Any and all of these steps can move you in the right direction, but a strategy that combines several of them will help achieve your goal faster.
Step 1: Create a Website
This is critical ammunition to have if you're aiming to become a thought leader. When someone hears about you, the first thing they do these days is to Google you. You don't want them finding photos posted by your college friends of that last wild party before graduation, do you?
By creating a website with the best practices for search engine optimization, you can build the image you want. It doesn't matter whether you choose to do this on a personal or a business website; what counts is having a site that comes up first when someone searches for you, your products or services.
Include a customer resource or knowledge center, where readers can go to get information of value that answers their questions or solves their problems.
Step 2: Become Known
To get your name known in your marketplace, you need to publish everything you produce under a byline. It's difficult to present a company as a thought leader; it has to be an individual. So however much you'd rather write as your business, "ACME Widgets" is unlikely to be invited to discuss its new ebook on the radio. Bob Brown of ACME Widgets is far more likely to get that opportunity. So accept the fact that you have to become known in your own right to bring the benefits to your business.
Step 3: Publish Regularly
Aha, so it's beginning to make sense, is it? All those pieces you've read about publishing fresh, quality content on a regular basis do more for you than just make your products findable online. They help to build up a body of work in your name that boosts your reputation as an industry expert.
Whether you choose to
publish video clips or podcasts of yourself discussing a particular issue or interviewing a personality of interest
articles or blog posts you've written on specific topics, including guest posting on other blogs
infographics based on industry stats and put together by a graphic designer, or
ebooks on your topic of expertize
the main thing is getting your name out there.
Step 4: Participate Publicly
All these activities are necessary, but there's another that not everyone is as comfortable with—public participation. You can't become a thought leader hiding behind your computer, however comforting you find it. You need to get out and about and be seen and heard.
Brush up your speaking skills by volunteering to give an address at the local college about your industry or presenting a free seminar at the chamber of commerce's monthly event.
Contact your local radio station (even if it's just a community channel) and fund some advertising in exchange for a weekly slot talking about your industry. This shouldn't be sales commentary, either, because few people are going to recommend your show to their friends unless it contains content of value.
Participate in online discussions and groups about your industry, and make it a point to answer as many questions as fully as possible to exhibit your knowledge. Once again, skip the sales-speak—keep it direct and to the point. Sure, you're giving away free advice, but you're also getting free advertising out of it.
Tools You Can Use
The age of the Internet has resulted in a range of useful tools you can use to become a thought leader. The opportunity is no longer restricted to the directors of large corporates; the new, level playing fields online make it possible for anyone to establish themselves as an expert and big business has no discernable advantage. Useful tools include:
Personal blog. This enables you to establish a personal brand and expertize outside of your company status. You can branch out into discussing any current issues that have relevance for your area of expertize without giving credence to your industry competitors.
Google authorship. By setting up a Google+ profile and claiming authorship, you indicate your ownership of all content you publish online. This boosts your Google ranking and secures your place as a credentialed author and expert. It's simple and free to set up, and beats out the blog posts published by "admin" any day of the week.
HARO. HARO is a website where you can sign up to be a source for journalists working on particular topics. Relevant queries on topics you specify are sent daily to your email address and you can provide comment and input by email. Writers and reporters looking for sources use your information and credit you as the source, which is great free publicity for a few minutes of your time.
LinkedIn Groups. Join groups related to your business and participate frequently, answering questions and making connections in related industries.
Creating thought leadership is essential in these days of global competition. By following these steps you'll begin developing a following faster than you could imagine.
*Image courtesy of freedigitalphotos.net