Let's be honest. Mass email blasts have never really worked. If you haven't defined a goal or found a way to measure effectiveness you may not realize just how little business you get from bulk emailing. In fact, mass emails probably do more to damage email marketing than help. Each time a marketer finds a way around a blocked address, consumers and email service providers put up an even higher fence.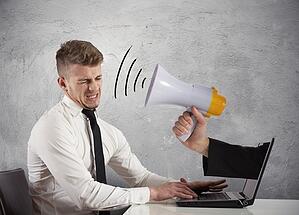 The consumer now has all the power. It is very easy to:
Report email as spam and get you permanently blocked
Automatically block email from specific domains and senders
Ignore and delete unwanted, unsolicited email
Even with the best email practices 20% of email will still not make it to the box. If you are sending spam, which is what mass emails really are, only about 20% will make it to the box.
Use Best Email Practices – 80% delivery rate
Send Spam – 20% delivery rate - maybe
That's a big difference, wouldn't you agree?
Why Email Recipients Detest SPAM
The definition of spam is "any email sent for commercial purposes without permission from the receiver."
Spam is a colossal waste of time, space and money. Spam is universally despised because it is usually irrelevant, lacks clarity of purpose, has no call to action, and no way to unsubscribe from the list. By the way, the latter is required by the CAN-SPAM Act of 2003. Violators can and will be blocked from service by your email service provider.
Spam wastes the time of the person who developed and wrote it as well as the time of the receiver who must now deal with it. Open and click-through rates drop like a rock. Recipients become completely unresponsive to you. Not a good way to reach revenue projections.
If you send to a friend, family member or colleague you may be inclined to consider permission to be granted but if you really think about it, those people probably consider all those email offers spam as well.
Opt-In to Permission Based Email Marketing
Opt-in email is any commercial email sent to someone who specifically signed up to receive it. Practicing opt-in mailing provides you with a whole slew of advantages from easier personalization to higher open and click-through rates.
You are now sending email people actually want and you have proof of permission to market to them. This can be the start of a beautiful relationship based on trust. You are showing customers you respect their privacy and you are protecting email marketing from the digital circular file.
Better yet, you can create micro-targeted emails and drip campaigns while saving time and money for further email marketing. Your email metrics will show that product interest is soaring and sales will rise along with it.
Tips for Successful Opt-In Email Campaigns
Define Goals
If you don't have goals you can't measure your effectiveness. Are you trying to educate, introduce new products or renew a relationship? Is your goal to develop more leads or is it to increase sales?
Create the Opt-In
Opting in requires a conscious action on the part of the customer. Make sure to provide sign-up forms on your website pages, on the transaction page and at events such as webinars and trade shows. Ask for email addresses when someone downloads a white paper or other collateral. Generate lists from newsletter sign-ups and or offer discounts in exchange for permission to email.
Avoid These Subject Line Gaffes
Don't forget to include your company name
Don't create a subject line longer than 55 characters
DON'T USE ALL CAPS
Don't use the words free, credit, offer, or "act now"
Provide a Call to Action
Without a CTA the customer is just left hanging. A call to action provides a nudge in the direction you want them to take: signing up for an event, downloading a white paper or ebook, requesting a case study or signing up for a newsletter. Just like landing pages, emails need calls to action to spur interaction and engagement while showing thought leadership and thoughtfulness for the customer.
A Word about the CAN-SPAM Act of 2003
Here is a direct quote from the FTC about the financial penalties of running afoul of the act:
"Each separate email in violation of the CAN-SPAM Act is subject to penalties of up to $16,000."
That is a nice chunk of change. For a smaller business, this could mean the difference between solvency and bankruptcy.
In short, spam is bad news and a waste of time and money. By practicing opt-in emailing you will have explicit permission to send email to someone who is genuinely interested in what you have to offer. Opt-in email helps you more closely target your marketing and provides the best leads for your business.
Mass email is, at best, an ineffective method of marketing and, at worst, a potential source of financial ruin. Going for opt-in will save you money and your customer time while growing your business more efficiently and with customer-friendly service.