Here's an interesting number: 248,000. That's how many manufacturing jobs that were open in February of this year according to the Bureau of Labor Statistics. That's about 5 times the current headcount at Google.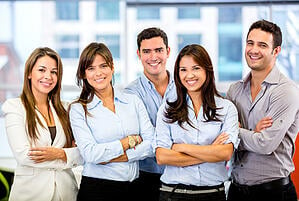 Here's another interesting number: 2029. That's the year the last of the Baby Boomers turn 65. One of the largest generational cohorts in modern history will be history. Who will replace them in the workplace? More particularly, who will take their place in manufacturing?
Generation X is already satisfied in their cubicles, halfway through their own careers. Some of them went into manufacturing but not enough to make up for the coming shortfall. Besides, by 2029 the last of that cohort will be nearly 50. Now is the time to show today's up and coming workers that modern manufacturing is vastly different from their perceptions.
Meet the Millennials.
Who Are They?
The Millennials, as a rule of thumb, are considered to be those born between the early 1980s through the early 2000s, meaning they range in age today from about 33 down to 10 or so. They are technically savvy and also highly optimistic. They excel at multi-tasking. And they have a strong desire for family life and care deeply about those in need.
According to some estimates there are close to 100 million of them and a quarter of those have not yet graduated from high school. That means there are millions of potential employees ripe for the picking if you can attract them to manufacturing.
What's Wrong with Manufacturing?!?
Nothing. Really. Well, except that it is still perceived as a low paying, dirty field of work. Many people, when they think of manufacturing, picture working on an assembly line performing a single motion over and over while standing on a greasy cement floor.
This is a perception you must work to change. You know that isn't a true picture and it hasn't been for decades. But in an era where shop class and industrial arts have been removed from the public school curriculum there is nobody shouting the advantages of a manufacturing job from the rooftops. It's up to you to change that.
Get involved in career day events at the local schools and colleges. Promote your workplace for field trips. Make yourself known to school counselors and provide them with plenty of information about the true nature and opportunities of today's manufacturing business. Speak at events.
Talk to the Millennials that already work for you and see if they have friends who need jobs. These are the people who will be your biggest advocates if you have treated them right.
5 Things Millennials Want in a Workplace
To Be Treated as Professionals
This is a generation that wants to be treated as grown-ups with worthwhile ideas and a good education behind them. Millennials want transparency and honesty because they feel they deserve to know all about their employers. This band of brothers and sisters has already experienced the darker side of internet anonymity and they don't want it in the workplace.
If you do this now you can get the pick of the crop because your competitors may not yet realize what they are missing. These are creative problem-solvers who will increase your competitiveness, profitability and ability to innovate.
To Be Collaborative
Having been through years of group projects in school, Millennials have been taught to work as a team and expect that to continue in the workplace. No silos for them, thank you very much. They want to see how their contribution fits into the whole and have the opportunity to make suggestions to improve it.
To Have Relevant Work
Nothing is more soul-draining than doing work that has no relevance to the world as it's understood. Millennials want to know they make a positive difference to life as they know it. You must show them you have a clear vision for the company, a defined mission with measureable objectives.
Millennials expect from their employers:
Thorough onboarding
An assigned mentor
Short and long term objectives and rewards
Continuous training and feedback
Peer engagement to share learning and knowledge
To Have a Career Path
Millennials have also been taught that the job they start with will not be the one they retire from. When they come to work for you they want to see that there is a path for them to follow to success. They cannot be conceived of remaining in the same position for 30 or more years. To retain their talent you will need to show them how they can grow with your company.
To Use Technology
As mentioned before, this is a very techy savvy generation. They have grown up in a world of computing, smartphones and ubiquitous connectivity to the internet and each other. Show them the same awesome technology is used in manufacturing as well.
3D Printing – an additive technology that is already found in many schools and some homes. Improved prototyping means being able to see your idea as a thing within minutes.
Nanotechnology – show Millennials that the pathway to new products exists within the "DNA" of common materials that can be improved at the molecular level.
Collaborative Applications and Programs for Efficient Communication – Basecamp, Nozbe, SharePoint, and value stream mapping.
To Sum Up...
Millennials need to be shown that manufacturing isn't the dirty, low-paying, dead-end job of their grandparent's generation. Show them that a manufacturing job can be fulfilling with growth potential and the opportunity to make a difference in the world. Show them the truth about the modern manufacturing environment. Show them you have careers not just jobs.
Now sit back and let the Millennials show you what they can do.