SEO efforts are supposed to improve your search rankings. However, using the wrong SEO tactics can have the opposite effect and get your Web site penalized by Google.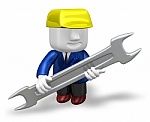 If your site has been guilty of black hat SEO in the past, or is a victim of negative SEO attacks by competitors, Google's new Disavow Tool could provide a remedy. However, it is a measure of last resort and should be used with caution.
What the Disavow Tool Does
The Disavow Tool is specifically designed to get rid of search ranking penalties caused by bad backlinks. These are links to your site that are obviously spam, which come from suspicious or extremely low-quality websites. They are otherwise dishonest or misleading.
The Disavow Tool allows you to list the pages or domains that are providing the negative links back to your site and request that those links not be considered when calculating search rankings or assessing penalties. This doesn't automatically mean that the bad links will be ignored—it is merely a request—but Google has stated that it will "typically ignore those links."
When to Use the Disavow Tool
Google itself warns against using the Disavow Tool unless it is clearly necessary. One reason for this is because most links, including ones that might be considered low-quality, still help improve your search ranking. Even spam links can theoretically be helpful if Google does not identify them as spam. So, unless you have specifically been penalized because of the links in question, disavowing them will actually hurt your search ranking.
Because of this, it is recommended that you only use the Disavow Tool if:
You are clearly being hurt by the bad links. Generally, that means you will have received a warning through Google Webmaster Tools, been manually penalized by someone at Google or seen your search traffic suddenly fall off a cliff.
You have already tried (and failed) to fix the problem yourself. You can get bad links removed by identifying and contacting the offenders, and then send a reconsideration request to Google detailing how you have fixed the problem. Of course, not all webmasters will honor your requests to remove links, and reconsideration requests are often rejected.
If both of the above apply, the Disavow Tool could be the solution you've been waiting for.
How to Use the Disavow Tool
To disavow bad links, you simply have to visit the Google Disavow Tool page and upload a text file listing the pages or domains that contain the bad links. Each address you want to disavow needs to be listed on a separate line of the text file. There are three types of instructions you can include:
Listing the URL of an individual page will disavow that specific page.
A line that begins with the command "domain:" followed by a domain name will disavow every page on that domain.
A line that begins with a pound sign (#) is a comment that is ignored by Google's computers, but may be read and considered by an employee.
It can take weeks for the changes to take effect, and much longer than that to rebuild your ranking through positive SEO. If you are withering on the vine due to Google penalties, though, the time and work that goes into the process could be a lifesaver for your site.
* Image courtesy of freedigitalphotos.net