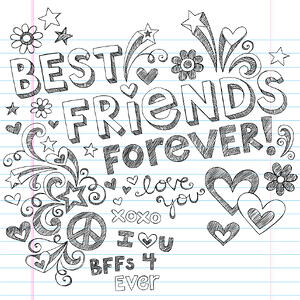 "I sent you a whole list of leads last week. Why haven't you worked them?" moans Maddy Marketer.
"Because those leads sucked! Most of them aren't even interested in talking to us!" snaps Sarah Sales.
Cue a song from the sixties rock group War (and covered by Smash Mouth in the 90s): Why can't we be friends? (Repeat four times)
Been there, done that? Yeah, for two groups with the same goal, marketing and sales don't seem to play together very well. OK, they don't play together at all.
Inbound marketing can change all that. Because of its structure and practices, inbound marketing is the single best way to get these perennially feuding groups to unite into a revenue generating powerhouse. To see how this works take a look at these elements of inbound marketing to see how it can be made more effective with input from both groups.
Building Buyer Personas
The true inbound marketer knows it's a waste of time and money to market to the masses in the hopes of getting a hit. You must know your buyer personas; everything from demographics to a day in the life. And while some of this information can be teased out of marketing's analytics reports and basic online research, sales people are the ones in touch with the actual people who use your product.
Marketing brings the expertise in creating a persona and sales brings in the intimate knowledge of the ideal customer. Together, sales and marketing can build a better buyer persona and begin to produce more targeted content.
Content Creation
With a buyer persona in mind, marketing produces reams of content meant to create awareness, attract prospects and convert prospects to qualified leads. Sales is in a perfect position to provide feedback on the effectiveness of each piece of content. This sets up a feedback loop where sales tells marketing how the content is performing and marketing tells sales what content is available to help them close.
Filling the Funnel
Inbound marketers understand that the sales funnel consists of several segments and that each segment has different information needs. Sales can help define how your customers travel through that funnel and help clarify and map specific content pieces to each segment.
This provides marketing with a more in-depth understanding of actual lead behavior while sales comes away with a better sense of the type of information leads have access to. Both groups then integrate that knowledge into a better content production and a smoother sales cycle.
Now You're Smarketing
Smarketing, or integrated sales and marketing, is a term coined by HubSpot to illustrate the fact that inbound marketing needs both the sales and marketing teams to talk to each other and work together to forge a successful sale.
Another thing that will bind the marketing and sales teams together is shared metrics. Sales teams have always had quotas or goals to meet. By giving marketing an aligned goal such as the number of leads needed to reach the sales goal, marketing and sales will realize they must build a relationship and work together to streamline the entire process.
Both teams also need to see and understand metrics related to website performance, landing pages and conversions, length of sales cycle and the various ways leads come to them. Each can bring a perspective to inbound marketing that is unavailable to the other.
In fact, an argument can be made that inbound marketing will not be successful without the efforts of both teams. According to a study by the Aberdeen Group, companies with strongly aligned sales and marketing see 20% annual revenue growth while companies with unintegrated sales and marketing see lower or even negative annual revenue growth.
Really, isn't it logical for sales and marketing to work together? They are both on the revenue generating, sales making side of the business. Mr. and Ms. VP of Sales and Marketing, tear down these walls! Get your sales and marketing teams together and stir them up. Get them to talking about what they do and how they can help one another. And then watch the revenue fly.