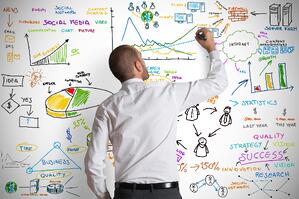 Still trying to get your boss to understand and invest in digital marketing? Maybe the CMO is still stuck in a rut when it comes to new marketing techniques. Many in the C-suite can be very risk averse. In fact, the larger a company gets, the less risk it seems to want to take on.
The tried and true, that's the way to go, right? Maybe the CMO needs a reminder that a lot has changed in the last decade; the old ways of marketing aren't working because the audience has more choices and, let's face it, more ways around advertising than ever before.
Do you know anybody who watches the commercials on a recorded show? What's the last radio commercial you remember listening to? Do you pay for ad-free newspapers on your e-reader? So does everyone else.
Here are some statistics that should make your CMO sit up and take notice of the digital world, the tools being used and (most importantly) where buying is taking place.
Show her the money.
Flocking to the Internet
Everything is reaching out to the web:
2 Billion - Number of global internet users; nearly half are in Asia (data from 2012).
239 Million - The expected size of the audience of internet users in the U.S. in 2012. To put this into perspective, this represents over 75% of the total population.
76 Million - The number of Smart TVs in homes world-wide in 2013. Shipments have increased 55% YOY from 2012. At least 50% of owners use the internet functionality.
Within the next couple of years over half the money spent on U.S. retail will be influenced by the internet.
Going Mobile
You will have to pry those cell phones and tablets out of people's cold dead hands.
88% - The volume of American adults who own a cell phone. This is the leading communication device today closely followed by laptops, tablets, and e-readers.
113.9 Million - Number of mobile internet users in 2012. About 94% of smartphone users connected with the internet from their mobile in 2012.
64% - The percentage of people using their mobile devices to shop online. This is the biggest thing to influence impulse shopping since candy at the check-out counter.
2.304 Trillion - Yes, that's trillion with a T and this is the number of text messages send per year, up 12% from 2010. This averages out to about 35 texts per person per day.
13.9 - The number of hours the average person spends with a tablet. Tablets are rapidly overtaking laptop and notebook computers as the browsing tool of choice. That's where many of the 38 hours of Youtube are watched per month.
72.8 Million - Number of mobile shoppers in 2012.
36.4 Million - Number of mobile buyers in 2012.
If your customer has money to spend, he probably has a mobile device.
Getting Social
91% - Percentage of digital adults using social media on a regular basis.
20% - Percentage of people who have bought something because of ads or comments they saw on Facebook.
1.19 Billion - Number of Facebook users by the end of 2013.
73% - Volume of smartphone owners accessing social media apps at least once a day.
66% - Percentage of people using social networks in 2012.
Is the CMO Still Balking?
If your CMO is still being a hard case about internet marketing, it's time to show how poorly traditional marketing is faring. TV ads are not effective, as less than 1/5th of them generate a positive ROI. Newspapers have been hemorrhaging subscriptions for several years now and are still getting their digital act together. People don't listen to radio anymore; they use Pandora and other apps to listen to custom stations and playlists without ads.
In short, interruption marketing is DEAD. People have had nearly a century of radio and then TV commercials and a couple of decades of pop-up/pop-under/everywhere you go internet advertising that interposed itself between users and the content they were really interested in. They are tired of it; they don't want to see it; they have ways around it.
It. Doesn't. Work.
Internet marketing, particularly inbound marketing, provides information your customers and prospects want, when they want it and in the manner they want to consume it. If your business doesn't prepare and implement an internet strategy it will be dead in the water.
According to HubSpot, inbound marketing generates 54% more leads than traditional tactics at a lower cost per lead. And it results in 100% more conversions since, realistically, it is impossible to track actual conversions from traditional marketing.
Besides the cost savings per conversion, internet marketing also offers another advantage over traditional methods. You can quickly test and change tactics such as lead generation content, landing pages, and anything else you put online until you have the best performance. You can't say that about a print, TV or radio ad. All of those have long lead times and, once published, cannot be changed until the next issue.
There is no way to explicitly target traditional advertising like you can internet marketing. Digital algorithms can be used to show your content only to those who are really interested in it. These are the users who are more likely to convert and experience a shortened sales cycle. You have a far wider yet more targeted reach online.
Finally, ask your boss if she can measure the marketing success of traditional methods. Then let her know how quickly and easily you can track the numbers for internet marketing. No more guesswork about where the marketing budget went or the ROI it earned. Everything from your website to your banner ads can be measured for performance and changed or discontinued immediately.
Internet marketing is flexible, less expensive, and measurable, something you can't say about those other forms of marketing. It will produce a positive ROI that you can prove to the rest of the executive suite, investors, the board of directors or whoever you need to convince. Your competitors aren't sitting still on this, so why should you?