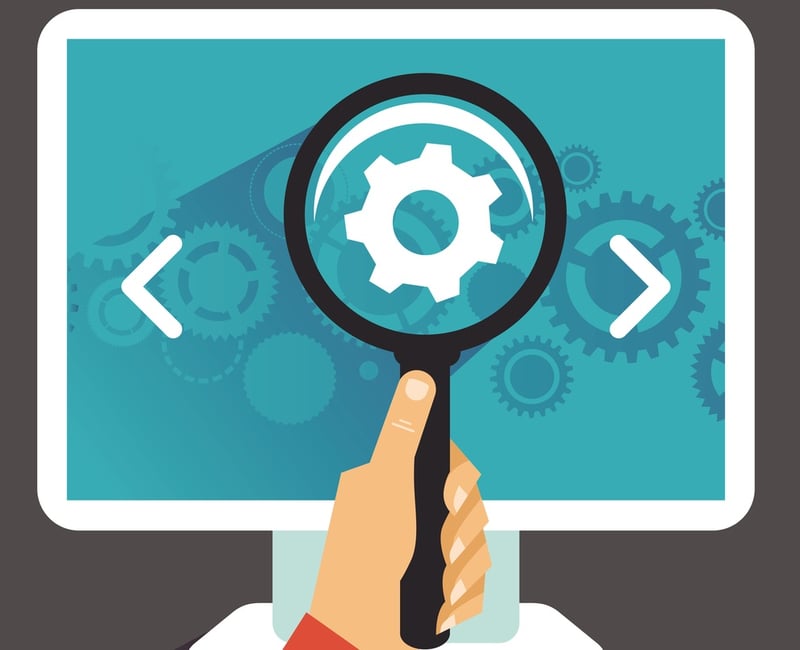 Savvy business owners should be familiar with the buyer's journey. It's basically the steps a potential customer takes before becoming an actual paying customer. A big part of this journey is research - people like to know what they're getting themselves into before they're in it.
Decision-makers are comparison-shopping you and your competitors by reading online, asking people they know for advice, reviewing photos, and so on. This research is incredibly influential and can be a deciding factor when it comes to purchasing your product or service.
So, how can you capture businesses at this stage - while confirming that your offer is the best option for them?
Case studies.
When it comes to distinguising your business, social proof and affirmation of quality results are big selling points. Case studies are one of the most effective methods for your business to close new deals.
Here's why they're such a strong tool for your business. Also, how can you incorporate them into your marketing and sales strategy?
Generate Leads
Not only can case studies generate qualified leads for your business, but they can also help to further qualify your existing leads. To do this, try gating your case study by requiring at least an email address. From that point, you can send a copy to their inbox and encourage them to forward it to their team. If they're willingly opting into your offer, you've already got their attention, and chances are they won't mind hearing more from you.
To get those emails in the first place, make sure you're promoting your case studies across your site and blog. By inserting relevant CTAs (calls-to-action) on different pages, you can lead visitors to more informative landing pages. The landing page is where you "sell" the case study in exchange for their email address. Some businesses even offer a library of case studies, so as you build up said library, you should create landing pages for each one.
But case studies don't need to live only on your site. They have a place in email marketing, too. For instance, you can incorporate them into your drip campaigns and send them to contacts who need an extra push along their buyer's journey. Or, your sales team can use them when prospects share specific problems that they're experiencing. If you send them a case study that addresses their pain point, then you've just countered their objection and hopefully gained a new customer.
EXAMPLE: MEDIAVALET'S Gated Case Study
Here's a landing page from MediaValet that asks visitors to fill out a form before receiving the content. Remember - a little intrigue can be a great qualifier.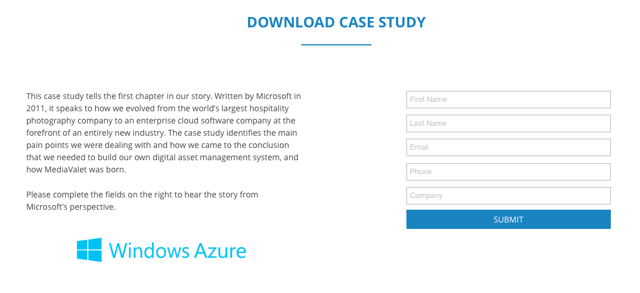 Build Trust And Address Objections
Building trust between a business and potential customer is no easy task. With so many companies not delivering on the promises they make in their marketing copy...can you blame buyers for being a little trigger-shy?
Identify your audience's pain points and bring their attention to how your product or service resolves them. Avoid using sales-y language and opt for honest, user-backed, and measured results. Your audience will have pre-established objections, so arm your case studies with counterpoints for each of them. The idea is to get a jump on the skeptics before they even have a chance to dismiss your company.
Case studies are a seriously strong selling tool. How they're written and how the different aspects of your business are featured can instill a positive opinion faster and more effectively than your website can. Highlighting businesses you've helped lends humility to your brand and personifies your company to the reader...all while addressing the questions they're already asking themselves.
Ex. BrandGarage case study on Novartis
In the first image, BrandGarage creates a compelling statement that uses words like "partnered" and "their vision" to focus the story around the success of the client. They allude to the work they did for Novartis and encourage visitors to keep scrolling.

They lead with the "Challenge" and "Outcome", keeping it short and simple so as not to lose the reader's interest. There's no mention of "we" or "BrandGarage". It's all about the client and their success. Since they're using a video in the case study, BrandGarage can get away with very little text.

Finally, they close out with testimonials to drive the point home. Even without a mention of BrandGarage, it's clear that the client was satisfied with the partnership.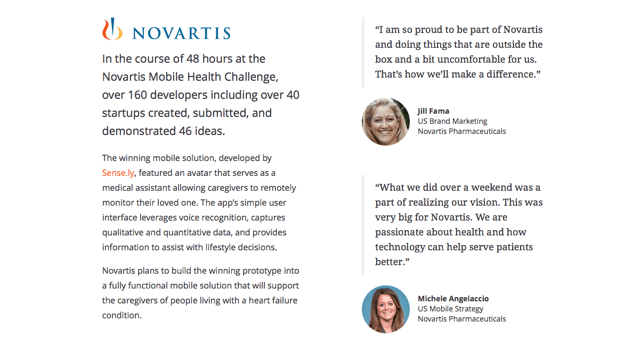 Tell a Story
Use your case study to tell a story, but avoid listing too many facts and figures. This gives potential buyers an opportunity to get to know your brand and see what you have to offer.
Tell a story worth reading!
A case study, like any written work that you publish on your blog or website, should be fun and informative.
Start out by introducing your client and explaining their main problem (or problems), followed by the resolution that your business put together, executed, and monitored. Wrap it up with a bow and a happy ending, and you'll be golden. Use language that potential buyers can relate to and make sure that the focus is on your client and how you enabled them to be more successful than they were before you stepped in.
EXAMPLE: BONAFIDE case study on MIGRAINE RELIEF CENTER
In a case study/blog post we did for one of our clients, we told the story behind the success that Migraine Relief Center saw in 2015. While we still threw in some numbers and stats, they aren't the focus of the post. Instead, we detailed the process, the strategies we implemented, and what worked for the client's growth.

---
Now that you're armed with the tools to produce and promote your first case study, take down a few quick tips on incorporating them into your marketing and sales strategy:
Build a page that houses all of your case studies

to make it easier for your sales team and potential customers to find what they're looking for.

After publishing a written case study,

spruce it up by creating a video version. Consumers love video and it's a great tool for marketing on social media.
Write about it.

Publishing a blog post about your case study will get it some much needed attention when it first launches. Keep the blog post about something that your business does without making it all about you. Then, slip in a CTA that points to your case study.
Let us know what success you've seen as the result of a strong case study. And while you're at it, check out our guide to modern marketing for even more insights into boosting your business.