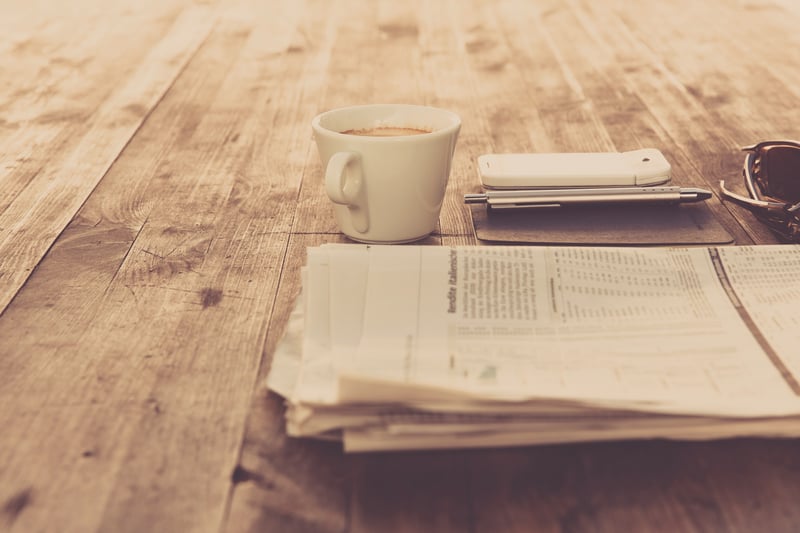 In the midst of what seems like an impossible information overload, marketing trends are constantly changing. Social media, inbound marketing, search engine optimization, content, advertising - the list of marketing approaches and buzzwords seems about as endless as all of the blogs and resources promising to keep you informed.
As an inbound marketing agency, we're constantly trying to keep up with the latest and greatest that's out there - and there's always something to keep up with. But with all of the publications, blogs, and vlogs out there, it helps to know which ones are worth spending your time on.
So, how do you stay on top of it, through all the noise?
You can't read thousands of blogs and publications - not that you should. But if you start with the ten on this list, you'll always have a pretty good idea of what's hot in the marketing and advertising world.
1. HubSpot Blog

HubSpot is probably the best-known leader in the inbound marketing world. That makes the HubSpot blog your go-to source on all things inbound marketing. Whether you're a customer or agency that uses HubSpot or not, the blog is a valuable resource.
The blog's content is published at a high volume, with several posts a day. There's no stagnancy in that regard. A wide variety of writers helps keep the content multi-faceted, and the topics that they cover are broad. Budgeting, productivity, inbound techniques - anything a serious inbound marketer needs to know, HubSpot covers.
HubSpot also has a sales blog that focuses tightly on the sales process which utilizes partnerships with other brands. Those partnerships provide data on trends and what does (and doesn't) work in sales.
2. Kissmetrics Blog

The Kissmetrics blog is where serious marketers turn to get help with data and analytics.
Kissmetrics is known for using infographics and other visual methods to make otherwise complicated data easier to understand. And, for entrepreneurs struggling to use all of the data available to them in a way that actually brings positive results, Kissmetrics helps take the guesswork out of it. Kissmetrics goes through the different approaches you might take with data and analytics, including the common mistakes and misinterpretations that can occur when your collected metrics aren't clear. You don't have to be a Kissmetrics customer to benefit from their analysis.
With frequent guest posts and a variety of writers, the Kissmetrics blog is basically the best place to go to understand content and marketing data. Common marketing topics are dealt with from a data perspective.
3. Moz Blog

The Moz blog is the place to learn about search engine optimization (SEO).
SEO can be complicated, especially if you're just starting out. Search engines seem to be adjusting algorithms and best practices constantly. The Moz blog makes it their priority to stay on top of these changes and break them down for you. They turn those complicated algorithms and keyword machinations into actionable insights you can use without getting into trouble with search engines. That means no more accidentally stumbling into black hat error.
The Whiteboard Friday feature, led by Moz co-founder, Rand Fishkin, is extremely popular. He uses engaging videos to help viewers better understand some of these SEO concepts in a casual instructional atmosphere.
4. Convince & Convert Blog

Convince & Convert, the blog of well-known content marketer Jay Baer, is one of the top content marketing blogs around (and yes, he actually has the Content Marketing Institute award to back that claim up).
That means two things.
First, the content there is top notch. You can expect it to be original, cutting-edge, and, frankly, not a lame rehash of the same ideas you can find everywhere else.
Secondly, because of the high quality and high profile nature of the blog, you'll find guest articles by some of the top content marketers around - marketers who often have their own blogs. That basically makes the blog a clearinghouse for winning content strategies and a good jumping-off point for finding other content marketers.
The blog format varies. There are interviews, videos, long-form articles, and episodes of the Content Pros podcast. Expect high-quality images combined with clear and concise writing, often in the form of actionable lists.
5. MarketingProfs Blog

The MarketingProfs blog covers a broad range of marketing topics that are currently relevant. One of the strengths on the MarketingProfs blog is that there are so many people writing and submitting articles. These contributors are experienced marketers themselves - they're writing about what they already know works.
The blog also covers the periphery of marketing, which makes it meaty as far as content is concerned. Digital and online marketing are covered, but so are topics like demographics, point-of-sale issues, future trends, content marketing - the whole marketing gamut. Unlike a lot of other "umbrella" blogs that cover such a wide range, MarketingProfs actually does pull in real unique insights.
The layout of the blog makes it easy to find the most popular posts (listed on the right), the featured post that the MarketingProfs editors have determined to be the most useful, and the most recent posts. At a glance, you can see what other marketers are most interested in and engaging with, as well as the latest content.
6. Hootsuite Blog

The Hootsuite blog is a good resource for anyone working with social media marketing, which is just about every marketer today.
Because the Hootsuite platform is all about social media marketing, their content reflects the best practices they recommend. The content on the blog is fresh, with about two posts published each day. It covers topics from how to collect and analyze social media data, examples of companies that use social media well, content marketing, and pretty much anything you need to know about using specific social media platforms for optimal results.
While there are other areas of their blog that pertain most to customers who use their platform, the main blog is going to be useful to any marketer who wants to optimize how they use social media.
7. Advertising Age

Advertising Age has been around just shy of a century, making it the de facto authoritative voice in the marketing world. Its online edition gets more than a million visitors in a month.
That online version provides a steady stream of 24/7 marketing information, providing news and updates about the entire world of marketing. That means whether you're marketing towards other businesses (B2B), running an ad agency, working in print or digital, or need to know data and advertising trends, Advertising Age can help you.
It also has profiles on all of the major social media networks. This makes it easy for you to stay up to date on the latest marketing trends on the networks you're already using.
8. Entrepreneur

Forbes and Inc. are easily surpassed by Entrepreneur. While Forbes, Inc., and other similar publications focus on the corporate marketer, Entrepreneur gives smaller businesses a place to go for the latest marketing information.
Entrepreneur targets small business owners who maybe aren't professional marketers, nor can they hire one. They make tricky marketing concepts easy to digest, but they also have posts for those who are a bit more advanced or experienced. But Entrepreneur doesn't dumb anything down. They have how-to articles that can actually help you grow your business, as well as content that focuses on productivity and trends.
If you're a small business owner looking for help, tips, and tricks that are within your reach (and budget), Entrepreneur is your go-to source.
9. Fast Company

Fast Company is for anyone who wants to approach marketing differently - anyone who wants to stand out in a crowd. For more than 20 years, Fast Company has highlighted new approaches, changes, and trends in the industry. Marketing trends move quickly, so keeping an eye on what Fast Company is covering is an easy way to stay ahead of the curve.
Here's how they do it: they focus on creative marketing (especially in the digital realm) and take you on a deep dive into how technology is changing up marketing and business in the future. Content is fresh and succinct, with great videos and imagery. Fast Company highlights other businesses or practices that are actually working while also giving you leadership tips and actionable articles that you can use in your daily business activities.
And honestly, it's a fun read!
10. Adweek

Adweek is all about hardcore advertising. If you're part of a marketing agency or completely immersed in creative content, this is your publication. Adweek talks about everything, ranging from brand engagement to television commercials. Think of it as your go-to source for inspiration, as you can actually see what others in your industry are doing.
Adweek's online format makes it easy to find the latest information. The left side of the screen is a running newsfeed of the latest content. The rest of the page breaks content up into editor's picks, the most popular content now, and even job listings. Adweek also has several ways to connect with them on social media, and you even have the option to get push notifications to your smart phone. They've incorporated the former Brandweek and Mediaweek publications, so it really is a one-stop place for all things advertising.
---
Which of your favorite publications weren't on this list (besides this one, of course)? Let us know in the comments!