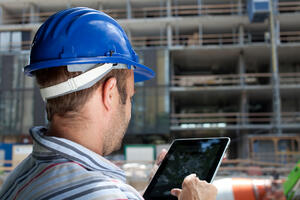 You've only got so much time and money to spend on marketing your construction company. You've got a great website, and maybe even a blog you post to regularly. The blog's got interesting content that pulls in new readers every week. Why would you spend more time creating a page on Facebook and doing everything a good social media campaign requires?
It's all about the customers. People who go looking for your web page already know about you, or are in the need of your specific services. They already know what they want and don't need a lot of selling to convince them to sign a contract. The rest of the internet, though, is looking around for something else. They may not be looking for a construction company this week, but they'll always pay attention to someone who looks like a solid and dependable provider at a good price.
As the most popular social media site online, Facebook is where your future customers live every day. They check it morning and night, they share interesting posts and they have a vested interest in everything on their wall. Facebook fans are dedicated, and they'll be around to discover your company day after day. They're looking for a lot of things on the site besides chatting with friends, and you can provide some of them to draw them in to your website.
Reason #1: It's a Place to Publish Information about Your Company
Facebook readers may be actively looking for a construction company, or may have the concept in the back of their head, but many of them trust pages they find on Facebook over random websites or blogs they find from internet searches. It's as if their Facebook wall was their neighborhood, with dozens or hundreds of people living near their home. Keeping your presence visible makes you look like one of the local businesses on their home street. This feeling of familiarity makes no sense, but it's real.
Once they've targeted your company as being a possible business they'll use, they want to know more about you. A business page is the ideal place to spread this information. They'll find out the basics they need to know, such as your address and phone number, but also some more personable details from your posts. Seeing little pictures with sayings or fun comments from you on their wall makes you seem like a company they already know. When they do have a construction need, your name will be the one they remember.
Reason #2: Prospective Customers See Your Special Offers and Discounts
Facebook is famous for having businesses that offer great deals, and readers who are looking for them. You may not be able to offer sales like the local shoe store, but you can still tempt the Facebook readers in your area by posting attractive deals from your company.
Coupons for a free job estimate
Seasonal specials
Offers for free additional work when a basic job is done
Information on an open house day with free food and beverages
Reason #3: Pinpoint the Focus Audience for Your Marketing
The geometric spread of the Facebook Friends system is based on a system of "Likes." People only click on things they're interested in to have them repeating on their wall. The "scattershot" method of most advertising and marketing strategies simply doesn't exist on Facebook. Everyone who reads your ads, information and posts is someone who has already said they like your company and are interested in what you have to say. You're preaching to the choir here; you just need to find the right sermon to get them to respond. Besides, if you have a Facebook page you can run Pay-Per-Click (PPC) ads on it, and those are so narrowly targeted it just isn't funny. You can choose the demographic profile of the people you want to reach, their geographical location, their education level and their interests. And on top of that, you only pay for the ads that actually convert by having someone click on them! It's one of the simplest ways to increase awareness of your brand and it really doesn't get much better than this.
Reason #4: It's a Good Way to Publicize Information about the Future of Your Business
Are you about to start construction on a new subdivision? Is the local hospital putting up a new wing? What better way to let people know about the great work you do than to post a series of pictures, one taken each day during the construction job? People want to know what's going on in their neighborhood, and how it will affect their lives. Giving them a daily photo update will give them the feeling of being an informational insider, as well as creating a must-see post for their wall every day. Once they're emotionally invested in finding out how the project is going, you've got your business firmly locked in their heads. You can also get feedback from your followers that will help you understand and manage your reputation in the industry.
Reason #5: It's Fun and Entertainment
Social media is, at heart, a fun way to pass the time. Sure, it's got informational value, but the main reason people click on Facebook is to relax and unwind for a few minutes. Why not turn your company into one of the posts on their wall that entertains them each day? Find humorous memes or create them, all relating to the construction business, and post them on your wall. Create an amusing character to represent your company and post as him or her, telling everyone about the character's day on the job. Get creative and have fun with it. Get something amusing or entertaining online, post a little something every day, and watch how many new friends you'll have for your page.
Facebook is reaching more people than any other media channel in existence. Why on earth wouldn't you want your company to have a presence on it?