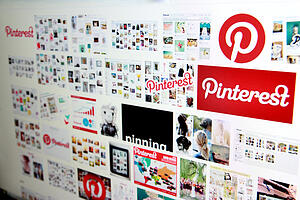 Images, both moving and still, rapidly gain the attention of most humans. It's why we create company logos and select signature colors. It's why video games and smartphones are so popular. They feed the craving for visual stimulation that our reptilian hind brain has evolved to focus on. Pinterest has become a powerful and very popular social media network based on this exact premise.
Now, you're probably thinking, "Manufacturing is a boring industry. There's nothing to show."
You couldn't be more wrong. Manufacturers have a wealth of visual attractions at their fingertips, from the products they make to the people who make them. Your customers would love a peek inside your factory at how a widget is put together. They want to hear from an employee why he likes to build things. It humanizes you to share visual information about what your company does, both in business and for charity. You can even use Pinterest to find out from your customers what products they need.
How Things Were B.P. (Before Pinterest)
Before Pinterest, before social media, before the internet even, how did you get the word out about your products and services? Print and TV advertising. You used catalogs to showcase your wares, magazine ads with eye-catching pictures and some verbiage, TV with action oriented commercials placed during shows you thought your customer demographic watched.
What did all these forms of marketing have in common? They tried to cater to everybody. There was no targeting, there was no customer segmentation beyond buying ad time or space in periodicals, papers, and television shows that you thought were more likely to be seen by someone who needed what you had to sell. All of these were scattershot approaches aimed at the widest possible audience.
How was that working out for you? Probably, you couldn't even quantify the performance of this type of advertising.
Then comes the internet. You took the same content and put it on your website and sent text-heavy emails out to all your customers once a month. If you sent a link, it was back to your home page. Maybe you have lately begun to embrace Facebook or LinkedIn, placing mostly text and a few images and brief videos that are still aimed at the broadest demographic. Twitter is used to promote links back to these social networks, your blog, or your website.
Pinteresting Possibilities
Pinterest does something better than anyone else: showcase visual content in a format that is flexible enough to easily segment your customers and provide highly targeted content that speaks directly to that segment. It also retains all the power of text that other social networks provide; you can easily add textual content with keywords and phrases for search engines.
Pinterest is like an online version of a collection of bulletin boards, each personalized by whoever holds the account. This gives you the power to categorize your content into boards that can be targeted to specific segments of your customers.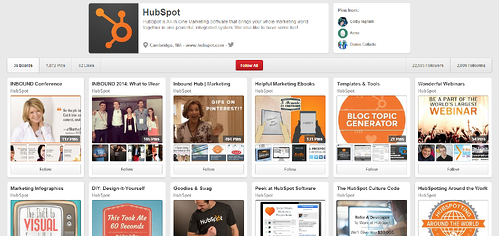 These bulletin boards can hold static images and show videos with plenty of room for the written word in support of those graphics. In fact, what is one of the most popular types of graphics? Infographics. What are infographics? That's right, images; the type of images that work so well on Pinterest.
Time to Pin
If you haven't already, open a business account in Pinterest. If you have a personal account and want to convert to a business account, Pinterest has made it easy to do so. Like other social media there is no charge for using the network.
Next, make a plan. Take your buyer personas or customer segments and determine what the best visual content would be for each one and create a board for that segment. Pin the visual to the board, enter a description using your keywords and phrases, and you are set to go. Don't forget to set a goal and measure against it so you can see what is and isn't working.
Put a Pinterest button on your website and blog; invite readers and users to pin the things they find interesting to their own Pinterest boards. You could even make it a contest. Ask your customers to create a board that describes their industry and provide a reward for the one with the most re-pins. Or think of another way to engage your customers to get a conversation going.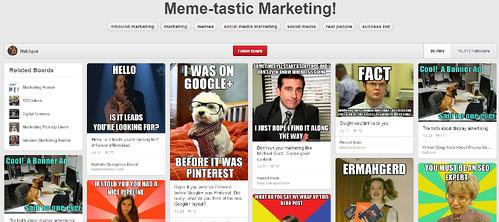 Organizational Suggestions
Many large brands have made a splash with Pinterest using a variety of different methods to name their boards and organize their images.
Lowe's set up its boards into single category interests. Each board is centered on one topic, for example, How-To. A big part of Lowe's business is DIY: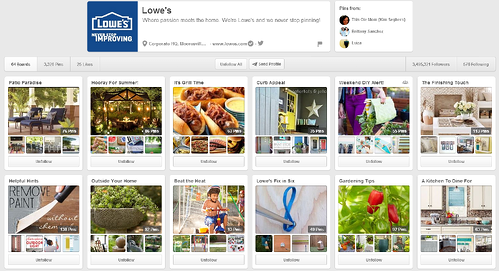 McKay Flooring in the UK organized its boards into different categories of product.
GE put "fun" pictures from the factory floor on one of their boards.
Still think you have nothing to show? More and more companies are coming "on board" to Pinterest. They showcase their products, their employees, and their customers while reaping the benefits of an additional source of SEO and link-building as well as another outlet for their brand.
Better hop "on board" yourself; you have plenty of Pinteresting things to show.
Who says manufacturing is boring?