Editorial calendars have been around for hundreds of years as a tool for successful publishing. In the print environment deadlines are a critical driver of business processes, and a publication could make or break its latest issue by adhering to the calendar. In the Internet age deadlines are slightly more flexible, but the principle remains: to be successful with your content, it's necessary to compile and stick to a schedule. This applies to social media as much as your blog or website, because it enables your followers to know when to expect posts from you.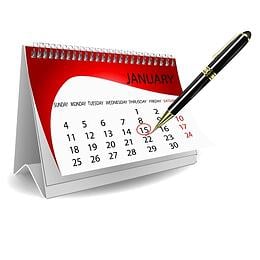 Identify the Goals
Begin by identifying the goals of your social media program:
How often would you like to publish new posts? Initially you may feel once every week is enough, but perhaps by the end of the year you'd like to work up to three times a week.

What time frame should the calendar provide for? This might correlate to a particular project plan or budget period. A 6- to 12-month plan is a good way to start without tying yourself in too far ahead.

How far in advance would you like to plan? This depends to a degree on who will be writing your posts and their level of knowledge. If you have to wait for your webmaster to post updates before you can tweet about them, you might want to set yourself starting dates a week ahead of your preferred delivery date.
Draft a List
Make a list of the topics or themes you can use for social media posts each month, and break them down into sub-categories. Search for at least two to three ideas for each post, so you have options to play with. Work into your list a seasonal business focus, as well as major events such as trade shows or conferences, monthly or annual dates that affect your company like Black Friday, and holidays such as New Year and the Fourth of July. Prepare your editorial calendar using Excel, Google, HootSuite or one of the other plugins you can get that provides a big-picture view of the calendar.
Allocate a Schedule
Divide your list of topics into the calendar you've created and allocate the topics to the schedule on a monthly, weekly or daily basis. Plan specific messages as far ahead as you can, so you just need to fine-tune them before posting. Identify complex issues that may require lengthy messages broken up into several shorter posts (remember tweets are only 140 characters!) and insert them into the editorial calendar.
Source Inventory
Don't write everything yourself – find staff members, experts, customers and business supply partners who can give input or even write posts for you, so you don't have only one voice coming through. Add their names beside the relevant items so you can notify or remind them. Build up a supply of standard material that you can use as a substitute if something isn't complete or ready in time. Check periodically that the inventory you haven't used yet is still relevant – you can't use a post talking about a pending merger if it's happened by the time you use it.
Augment and Integrate
Nothing works in a vacuum, not even social media. Liaise with any relevant print publications, radio shows and other media that traditionally cover issues of interest to your customers. Try to post relevant content that coincides with anything else taking place, to augment the exposure your social media campaign gets. Integrate your editorial calendar with all publishing efforts taking place to make sure you reach target audiences across all channels.
*Image courtesy of FreeDigitalPhotos.net