What is SEO Optimization and Why Does it Matter?
On-page and off-page SEO optimizations help search engines more accurately identify what your site is about so that you are able to rank higher for the search terms most relevant and important for your business. With a site optimized for SEO, search engines are able to correctly connect your site with people who are looking for what your site provides.
Off-page SEO, on the other hand, helps build site authority and boost rankings by eliminating incorrect mentions and requesting links back on valuable mentions. This provides additional context off your main page to help search engines validate what your business is all about.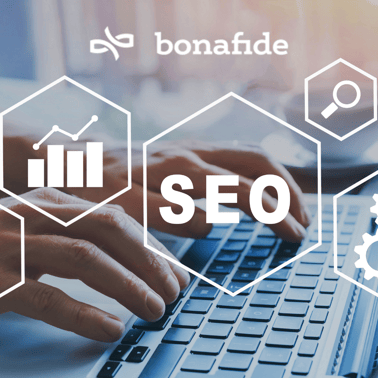 Client Success Story
We recently helped one of our O&G clients achieve exciting results with both on-page and off-page SEO optimizations.
Though the importance of ranking well for relevant keywords is something that can be easily overlooked (because results tend to lag efforts and because it can be difficult to define an exact ROI), we started by working with them to identify the keywords most important to their business. We also identified easy website optimizations we could help them make to improve functionality and keyword ranking. By implementing the most important keywords throughout their site descriptions and titles and building emphasis in their content, within just a few weeks our client was ranking as high as 1st position for some of their most important keywords.
Off-page SEO work was especially valuable for this same client who underwent a re-branding a few years ago. We eliminated and updated mentions and links to their former brand name and website, strengthening the new brand by transferring their previous brand's site authority to their new brand.
If you're interested in on-page or off-page SEO optimizations, we'd love to talk.